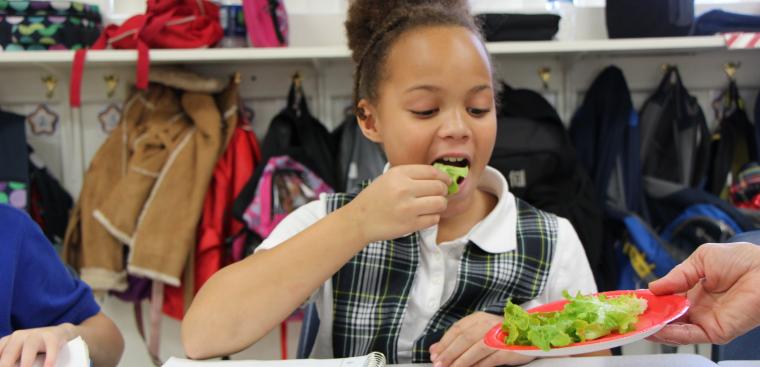 "If they grow it, they'll eat it."
We've used that mantra for years now, but here's a little snag.  Seems no one is immune to rules and regulations these days, and edible school gardens — particularly those in Arizona — have a few rules that can make it a bit more difficult for the children to actually eat what they grow.
Both California and Arizona schools allow students to eat produce directly from the garden.  Sample away!  This is good news and I have seen firsthand how diligent the teachers are in the care of their gardens, and to insure that the students wash the produce before they eat.
As school gardens become more successful and increase their yield, even after the samplings, the "salsa parties" and sending home of produce with the students, there is still product to spare.  It is at this time that schools often opt to work with their cafeteria, providing nutritious food for the entire student body.
California allows it and offers guidance on how to be successful in a cafeteria program.  Arizona allows it too, but only after the school has received a special certification.
Arizona
Arizona has specific regulations in order to provide school garden-grown produce in the cafeteria.  Schools must receive a "School Garden Certificate of Approval" from Arizona Department of Health Services (ADHS) prior to supplying produce to the cafeteria.  In order to receive certification, the school must submit a Site Visit Application, a Food Safety Plan (template available) and a map of the garden to ADHS.  Upon receipt and review of the aforementioned items, a School Garden Sanitarian will arrange for a site visit to ensure that the school garden meets all of the program requirements.  The five main topics for certification include:
1.  Location
•   Garden Manager must verify that the native soil is:
     o  free of any contamination from previous land use or potential new sources
     o  pest controlled without the use of chemical treatments
     o  weed controlled without the use of chemical treatments
2.  Water Source
•   Garden Manager must verify that water used for hand washing, harvesting or cleaning meets minimum drinking standards
•   If well water is used, it must be tested once during the growing season and treated if necessary
•   If irrigation is used, the water must be tested three times during the growing season and meet EPA Recreational Water Standards
•   Collected rainwater should not be used for edible plants unless approved by an attestation and Standard Operating Procedure (SOP) is on file
•   All water inlets must have an air gap or backflow prevention device installed
3.  Soil Composition
•   Existing soil must be tested to ensure it is free of lead.  Soil sample testing is provided at no-cost through ADHS
•   Any non-native soil must be purchased from a commercial producer
•   To utilize compost in your garden, you must submit an attestation and SOP to ADHS
4.  Gardener Hygiene
•   Gardeners must be trained on proper hand washing techniques, when to wash their hands, and reporting of illnesses or injuries to the Garden Manager
•   Bathrooms and/or sinks are cleaned routinely and stocked with soap and paper products or working hand dryers
•   Trash receptacles are routinely emptied
•   All liquid sewage is dumped into a sanitary sewer system or other approved method
5.  Harvesting Policies
•   All food contact surfaces and equipment must be made of durable, easily cleanable material, cleaned and sanitized in an approved area
•   Produce will be manually cleaned, but not rinsed before transport to the cafeteria to prevent mold growth
•   Produce with animal feces or visible contamination is discarded in the trash
Please note that this is only a sample of the food safety procedures that should be followed when utilizing school garden produce in the cafeteria.  For more information regarding food safety, please reference the USDA's Good Agricultural Practices (GAP) and Good Handling Practices (GHP) located here: http://www.ams.usda.gov/AMSv1.0/gapghp.  For more information about Arizona's School Garden Program, please contact School Garden Sanitarian, Kathryn Mathewson at 602-364-3952 or Kathryn.Mathewson@azdhs.gov.
California
Although the state of California does not currently have specific regulations regarding school garden to cafeteria-use of produce, there are a number of encouraged food safety guidelines, such as:
Soil Preparation
•   Can not use fresh or unsterilized manure (all animal manure is potentially hazardous).  Use only sterilized or fully composted manure
•   Test a soil sample for lead contamination
•   Check with the school district or local utility companies to ensure there are no underground pipes or cables that may disrupted during digging
Water
•   Make sure all water used for watering plants, washing produce or washing hands is potable (drinkable)
Building Materials
•   Do not use railroad ties, treated lumber or old tires for garden boundaries, raised beds or anywhere in the garden.  These items may contain toxic chemicals that can seep into the soil and be absorbed by the plants
As the school year begins, the Foundation will be actively engaging with the gardens, encouraging strong food safety practices because we all know, "If they grow it, they'll eat it.