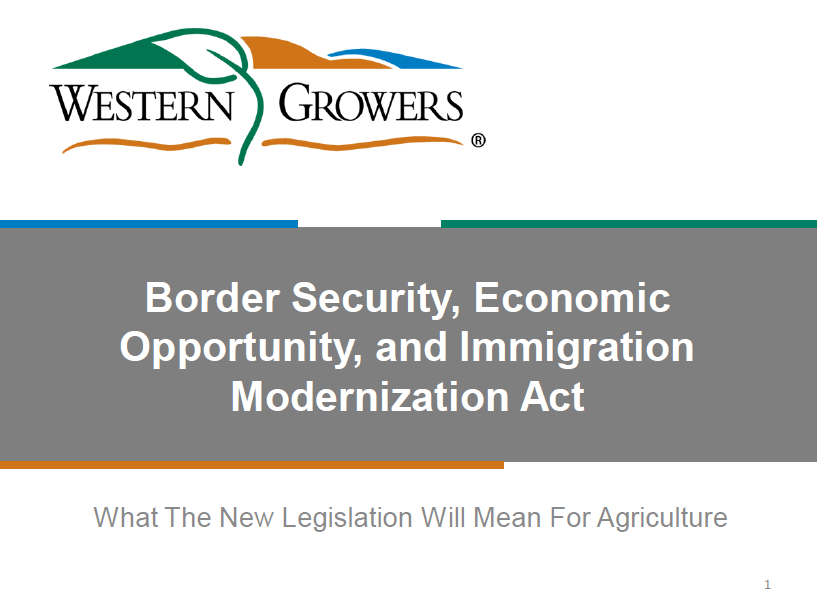 After much anticipation, on April 17, 2013, the Senate introduced its comprehensive immigration reform package. The "Border Security, Economic Opportunity, and Immigration Modernization Act'' includes provisions based on a landmark agreement that was reached by the Agriculture Workforce Coalition (AWC), the UFW and key Senators. The bipartisan legislation represents the best opportunity in years to ensure America's farmers, ranchers and growers have access to a secure and stable workforce now and in the future.
On this webinar, Western Growers President and CEO Tom Nassif – one of the negotiators for the AWC – highlighted the key elements of the agricultural worker program and the practical implications of the Senate package for Western Growers member employers and their employees. Additionally, as one of the AWC lawyers instrumental in writing the agriculture title of the immigration bill, Monte Lake was on hand to provide his expertise on the details of the legislation.
Some of the critical takeaways from this fast-paced, sixty minute webinar included:
The historic agreement forged between different agricultural and labor interests
How existing falsely documented agricultural workers are treated differently than undocumented workers in other industries.
How the future temporary worker program differs from the current H-2A program
The anticipated timing of the legislative process and implementation
Also includes: Senate Bill - Ag Worker Program Summary
Western Growers members care deeply for the food they grow, the land they sustain, the people they employ, and the community in which they live.