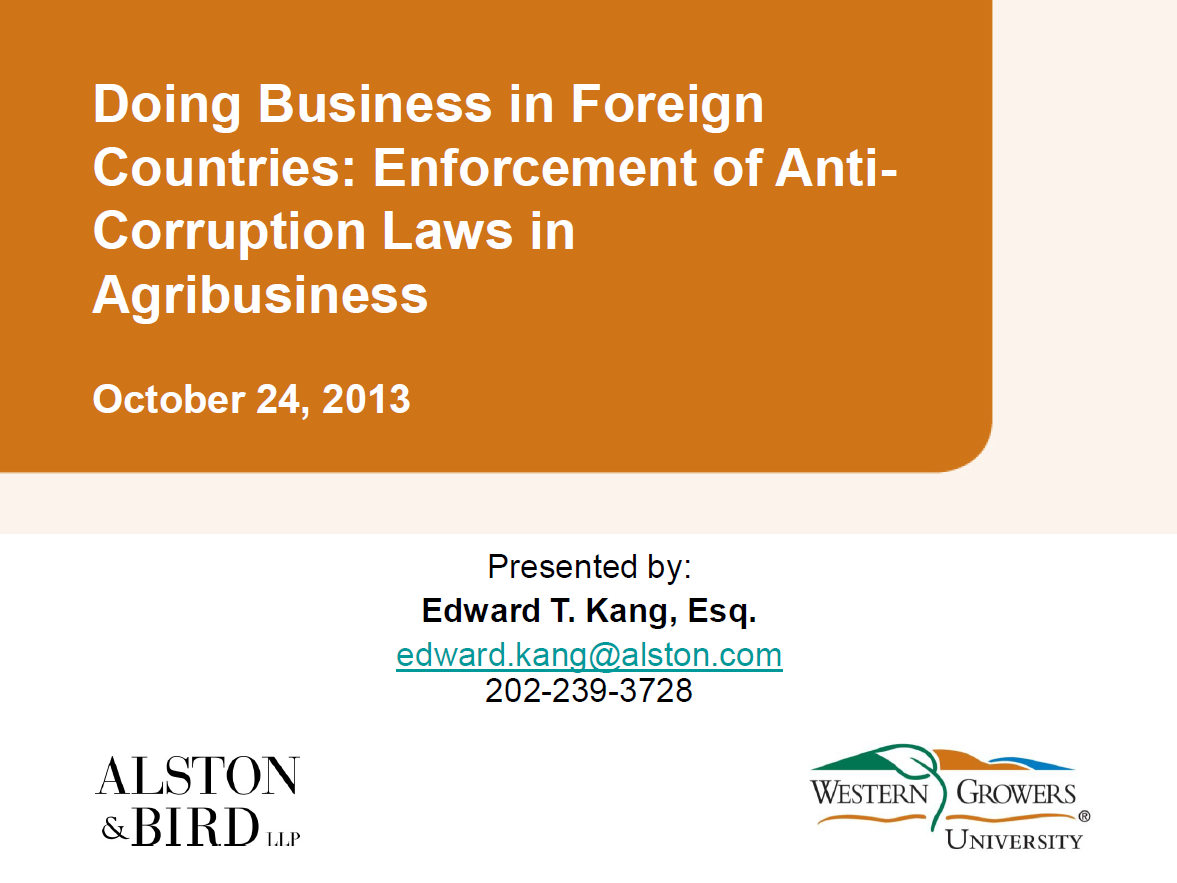 Corruption poses a significant legal and economic risk for corporations doing business around the world, particularly in developing and transitioning countries. The US Department of Justice (DOJ) and the Securities and Exchange Commission (SEC) are fighting corruption by increasing the number of investigations, settlements and prosecutions for violations of the Foreign Corrupt Practices Act (FCPA).
In recent years, the DOJ and SEC have aggressively enforced the Foreign Corrupt Practices Act, targeting industries as wide-ranging as energy, health care, and retail.  Since 2009, criminal and civil FCPA settlements have netted the government more than $2 billion in penalties from companies and have resulted in individual prison sentences of up to 15 years.  With no foreseeable end in sight to FCPA enforcement, could agribusiness be the next target for regulators?  In August, Archer Daniels Midland Company disclosed that it had set aside $54 million to cover monetary penalties that could be imposed by DOJ and the SEC in connection with an ongoing FCPA investigation.  That announcement could portend more such investigations within the agribusiness industry.
The government's increased FCPA enforcement activity has caused the management and boards of multinational corporations to become more concerned about their compliance efforts. This Webinar explains how an organization can minimize the risks posed by foreign bribery by:
Understanding the practices prohibited by the FCPA and other applicable laws;
Remaining up to date on FCPA enforcement trends;
Recognizing "red flags," circumstances under which the risk of corrupt practices is high and enforcement authorities expect corporations to be particularly vigilant; and
Evaluating the most appropriate systems to achieve corporate compliance.
Presenter: Edward T. Kang, Partner, Alston & Bird LLP
Moderator: Jason Resnick, Vice President and General Counsel, Western Growers
Western Growers members care deeply for the food they grow, the land they sustain, the people they employ, and the community in which they live.