Dear Valued Members:
While the country is still in the early phases of distributing the COVID-19 vaccine, we want to keep you informed of what we are doing as an organization to prepare. As you are aware, the COVID-19 vaccine will have limited availability at first due to limited supplies. The Centers for Disease Prevention and Control (CDC) is currently working with state and county health department officials to determine which groups will receive the first vaccinations and where they can get it. Please note: If someone has previously been diagnosed positive for COVID-19, they should still get vaccinated as soon as it's available to remain protected from the virus.
The U.S. Food and Drug Administration (FDA) issued emergency use authorization for two COVID-19 vaccines. The COVID-19 vaccines authorized by the FDA have been shown to be safe and effective in clinical trials.
Three Vaccine Phases
At first, vaccine supply will be limited and provided only to healthcare workers and long-term care residents. The next individuals to be vaccinated include those who:
Have higher risk for severe disease or death (due to age or other factors)
Are unable to work at home
Live or work in geographic areas that have been highly impacted
Are most likely to spread disease to other workers or to the public
The current vaccination priority schedule is as follows: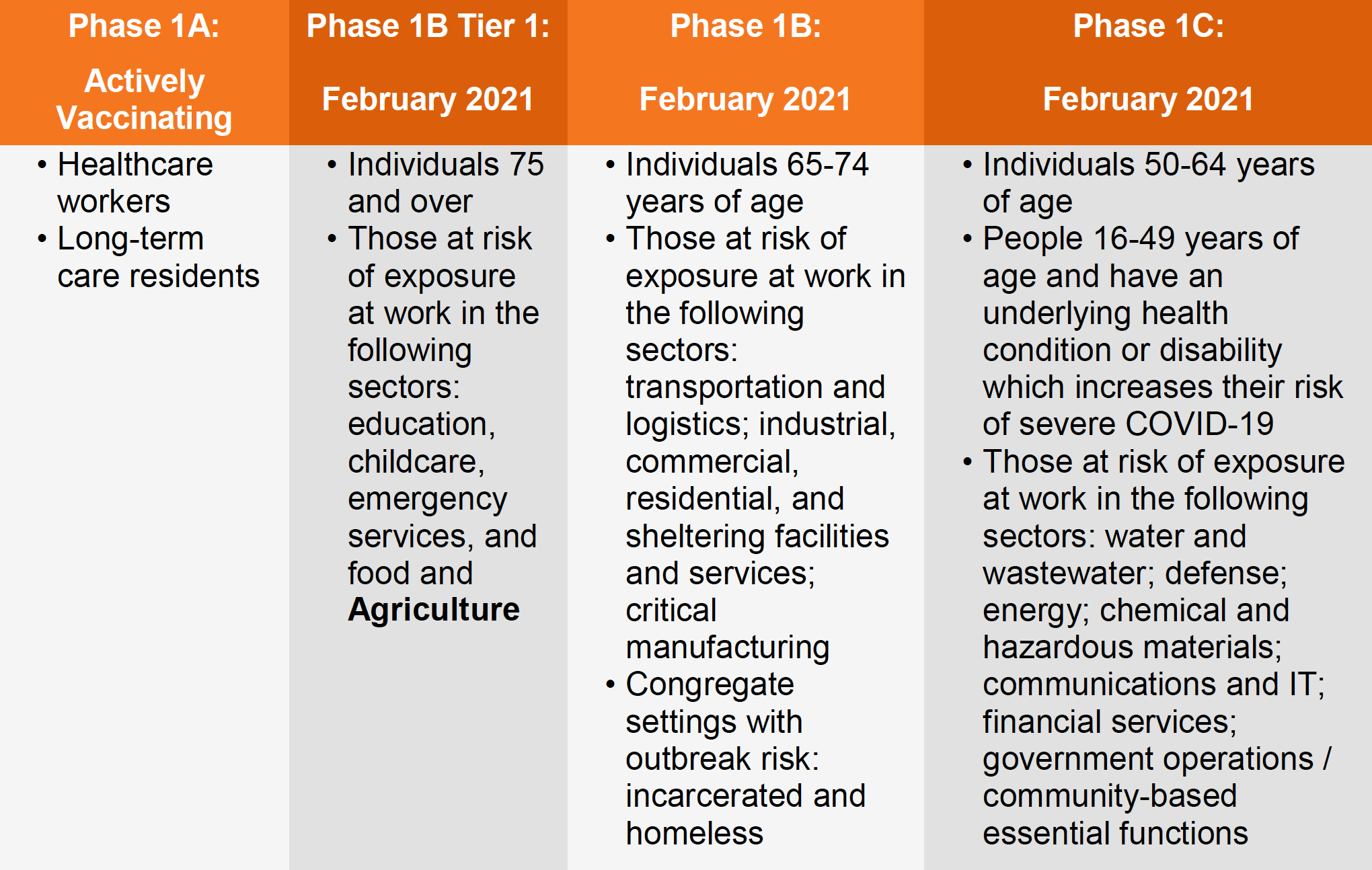 Vaccines Will Be Available at No Cost
The Federal government is absorbing the cost of vaccinations for 2021 and 2022. In some instances you will need to provide your insurance or health plan information, by request, for an administration fee that may be billed to your plan. Eventually, COVID-19 vaccines will be treated the same as other preventative vaccinations, such as the flu shot, that are available at no cost to insured individuals, health plan participants, and Medicare and Medicaid beneficiaries.
Getting Vaccinated
California counties are working with the State to allocate and administer the COVID-19 vaccines using the vaccine priority listed above. To get local information about your county's COVID-19 vaccination plan visit:
In Arizona, if you a member of an eligible phase, you may register and schedule an appointment to get vaccinated here:
Phone: (602) 542-1000
Email: podvaccine-triage@azdhs.gov
In California, there is no statewide registry to sign-up for the COVID-19 vaccine. Please refer to your county's health department website for up-to-date COVID-19 information and vaccine availability. Many counties are scheduling vaccination appointments for those in the early stages.
We are committed to keeping you informed about COVID-19 vaccines and ensuring a seamless and convenient process as they become available. We look forward to continuing to be your partner on the path to better health for you and your employees.
Sincerely,
David Zanze
President of Pinnacle Claims Management, Inc.