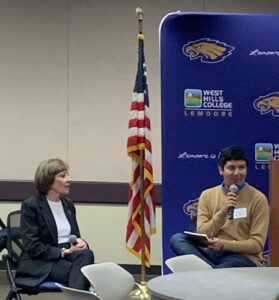 Western Growers Association, California Department of Food and Agriculture (CDFA) and West Hills Lemoore College presented Ag Techx Ed – Developing The Next Generation Of Ag Tech Employees event on May 9th, 2023 at West Hills Lemoore College. In another step toward supporting and onboarding the next generation of specialized agtech professionals from within grower communities, Western Growers, colleges and the CDFA organized informative panels and a locally sourced dinner prepared by the West Hills Lemoore Culinary Program.
The events of the day included An Industry Issues and Skills Identification panel that discussed guidance on skill gaps, trends and needed skills within agriculture followed by the Education and Workforce Development Strategies panel where educators discussed current and future agtech workforce development in curriculum implementation, certificates and degrees. The third panel of the day showcased industry leaders who discussed strategies and tactics for building a sufficient workforce.
Karen Ross, Secretary, California Department of Food and Agriculture, connected with attendees at a Fireside Chat and discussed ways to cultivate local talent through partnerships between government, industry and education.
This event was one of a series meant to connect growers with students acquiring the skills needed in the changing agricultural environment. For more information about upcoming events or connecting submitting a request for an intern, email Carrie Peterson at cpeterso@yccd.edu.